Today calls for celebration, ladies & gents: last day of classes! (We're just going to ignore the fact that this also means I only have one semester left of college. Cool, good chat.)
A week from today, I'll be back home, snuggled up on the couch watching as many Netflix documentaries as I can cram into winter break.
Until then, though, I'll be bumming it up in my apartment until the time comes to study for the one exam I have during finals week. In other words, I'll probably be spending all day err day reading blogs…as if I don't do that already.
SPEAKING OF WHICH–today is What I Ate Wednesday!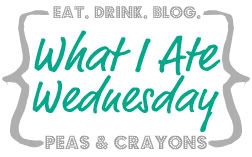 I've been all about bowls of cereal the past several days, so I decided to switch it up this morning with some Greek yogurt. Important fact to know about me: I adore Chobani. Remember that time I won a giant box of it? Yup, downed it all before it even got a chance to expire. Pro.
My stomach was growling once I got back from my morning classes, so lunch needed to get in my belly ASAP. Enter Amy's Tuscan Bean & Rice soup. I quickly heated up a can, threw in a huge handful of spinach (heyoooo iron), and topped it with some parmesan cheese. Easy, filling, delicious.
After lunch, I killed time before my final class by catching up on all my Tuesday night TV shows and snacking on some almond butter. "Parenthood," "New Girl," and "The Mindy Project"…Tuesday nights are a good night for television.
Clare over at Fitting It All In recently posted about Trader Joe's frozen Pizza Primavera. It sounded pretty yummy and relatively healthy–plus it's a single-serving dish, which is always appealing–so I picked one up on my most recent trip to Trader Joe's. Unfortunately, I didn't love it as much as I hoped. Something about the texture of the vegetables just didn't mesh with my tastebuds. Oh well.
Dessert more than made up for it, though! One of my roommates loves baking so she whipped up a batch of S'mores Stuffed Chocolate Chip Cookies. Turns out these cookies are huge, so half of one was more than enough to satisfy my sweet tooth. I didn't get a chance to photograph it before shoving it in my mouth, but here's a link to the recipe on Picky Palate.
Now excuse me while I go watch "Taken" with my roommates and bask in the glory that is the last day of classes!
Try any new foods today? Tell me about it in the comments!